Comprehensive Checkup Center
Comprehensive Checkup Center
A top-class, comprehensive, medical examination center guaranteeing life-long health with its modern medicine + Korean traditional medicine + integrative functional medicine cooperation system
Nasaret International Hospital's Medical Examination Center has a variety of screening programs with state-of-the-art equipment to prevent a variety of cancers and vascular diseases. We conduct comprehensive and systematic inspections from the earliest detection and treatment of disease, to overall health care, and we take thorough care in following-up the results.
Checkup Programs
For your counseling and appointment
| | |
| --- | --- |
| Call | +82 (0)32 899 9735 |
| E-mail | nasaret747@naver.com |
Opening hours
Weekdays
07:30 ~ 16:00
Saturday
07:30 ~ 12:00
Closed on holidays & Sundays
Brochure Download
Brochure Download +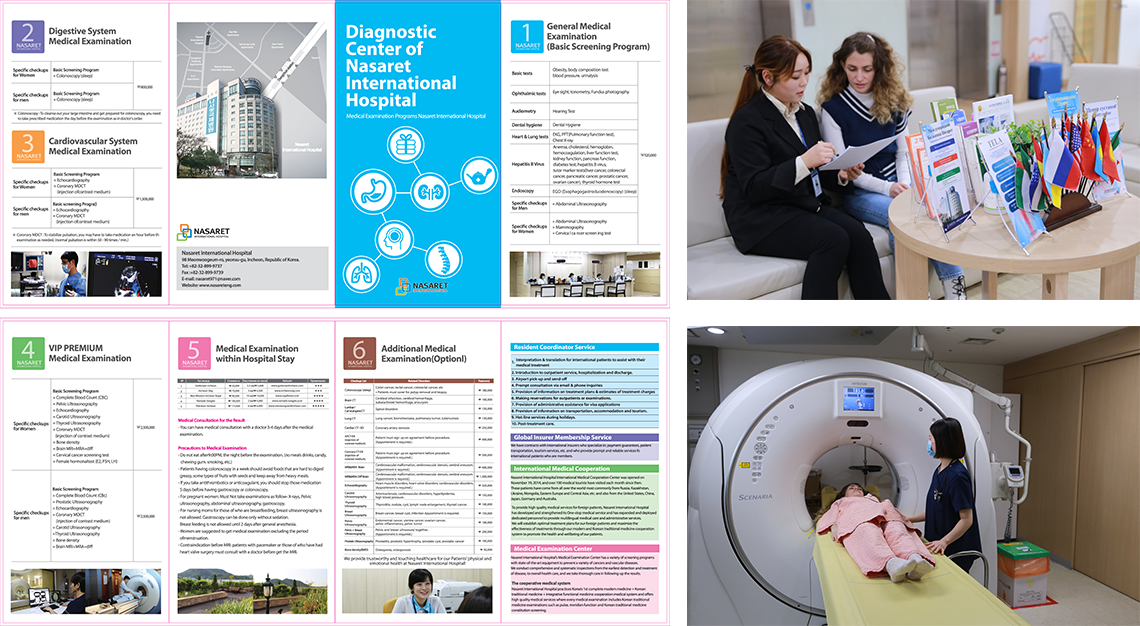 The specialty of the Medical Examination Center
The cooperative medical system
Nasaret International Hospital practices Korea's 1st complete modern medicine + Korean traditional medicine + integrative functional medicine cooperation medical system and offers high quality medical services where every medical examination includes Korean traditional medicine examinations such as pulse, meridian function and Korean traditional medicine constitution screening.
Differentiated Medical Services
By providing customized comprehensive screening programs according to the needs and characteristics of the examinees, we can offer precise and personalized medical examination services for; women, men, children & adolescents, stroke patients, families, smokers, gastrointestinal diseases and cardiovascular diseases.
Diagnosis-Examination-Treatment One Stop Service
If the patient is diagnosed with any health risk or a disease after a check-up then, in conjunction with the relevant department, the patient can be looked after from reservation & close examination to treatment in One Stop.
Checkup process
01

Reception/ Registration

Reservation, check examination categories and reception & registration

02

Changing

After registration, change into an examination gown in the changing room. Please wear bottom underwear only, and remove all accessories. Please leave any valuables at reception.

03

Basic physical examination

height, weight, vision, hearing ability, bodily composition

04

Ultrasound examination

05

Uterine cervical cancer examination (female)

06

Dental examination

07

Lung function examination

08

Radiology examination

09

Chest X-ray, mammography, bone density, upper gastrointestinal series (Additional examination :CT scanning)

10

Sasang constitution consulting

11

Korean Traditional Medical Examinations (pulse, meridian)

12

Gastroscopy & colonoscopy

13

Consultation about decision on results
Notice
Directions for our patients
Before your general health checkup

Do not take aspirin, anti-platelet agent, or Coumadin, etc. for 1 week prior to your examination. If you need to take these, consult your doctor.
Avoid excessive drinking, working and exercising for 1 week prior to your examination
On the day before your examination, please have dinner before 7:00 pm and avoid taking anything, including water, after 10:00pm, and do not smoke cigarettes, etc.
If you need to take medicine for hypertension, it should be taken with a small amount of water early in the morning of your test day.
If you have diabetes, do not take diabetes medicine or inject insulin during the fasting period, take the medicine or injection after your examination.
For female patients, please make an appointment for 7~10 days after your menstruation is due to finish.
On your examination day

If you cannot attend on the examination day, please give us notice, 2-days in advance by calling; +82 (0) 32-899-9500 to cancel.
During your examination, accessories can obstruct the process and might get mislaid thus, please avoid wearing any.
Please bring your questionnaire and, if you wear contact lenses, bring a contact lens case. If you will be receiving sedation endoscopy, avoid driving or making important decisions. (Coming accompanied a guardian is recommended.)
After your examination

We will phone you with your results using the number you have given us. But you can receive your results in person at the hospital or by post.
If your results indicate that you need treatment from specialists or require additional examinations, we will contact you immediately. Coordination for outpatient treatments is also available.