Title

Nasaret International Hospital Hosts Foreign Student Medical Tourism Supporters' FAM Tour [나사렛국제병원, 외국인 유학생 의료관광 서포터즈 팸투어 진행]
Name
Date

2019.08.20
Contents
"Expecting global promotion of Korean medical service excellence"
Original article published by Cheonji Ilbo, Incheon
Written by Kim Mi-jeong
Published 2019 May 07
On the 3rd, Nazareth International Hospital invited foreign student supporters to promote medical tourism in Incheon and conducted a hospital introduction and experience program.
These international student supporters were selected students from Incheon University in Incheon who carried out promotional activities through social media in various countries in order to inform the world of Incheon's excellent medical service.
International student supporters from Russia, China, Vietnam, and Pakistan who came to Nasaret International Hospital visited the general examination center, rehabilitation center, and oriental medical department to provide specialized medical services of Nasaret International Hospital such as body composition analysis, dermatology treatment and first hand experience of the Sasang Constitutional Differentiation Test.
In particular, the foreign supporters showed great interest in the Korean Medicine's Chairman Lee Kang-il's Sasang Constitutional Examination.
Lee Kang-il, Chief Director of the Nasaret International Hospital, said, "We expect foreign student supporters to provide information on the treatment process to those unfamiliar in Korea and overseas thus contributing to global excellence in medical service. For Nasaret International Hospital to promote its medical tourism, we will continue to provide content materials and supporters' activities."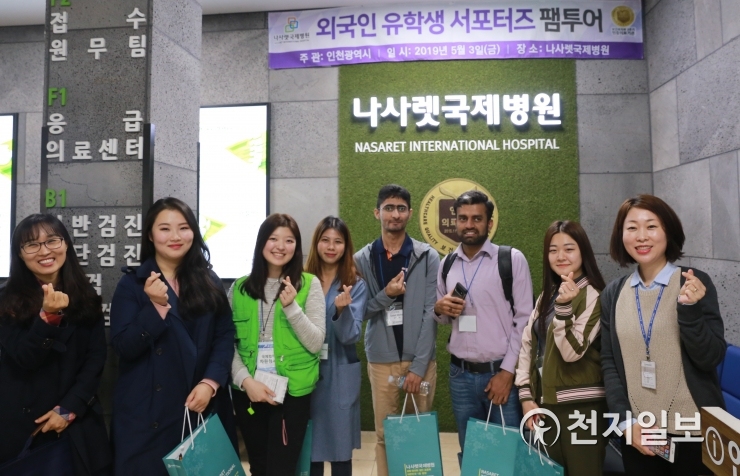 게시물수정
게시물 수정을 위해 비밀번호를 입력해주세요.
댓글삭제
게시물삭제
게시물 삭제를 위해 비밀번호를 입력해주세요.