Title

Nasaret International Hospital to Offer Children's CPR Training [나사렛국제병원, 어린이 심폐소생술 교육 실시]
Name
Date

2019.08.20
Contents
Nazareth International Hospital to Offer Children's CPR Training
Educating100 children of Donghwa Nara Kindergarten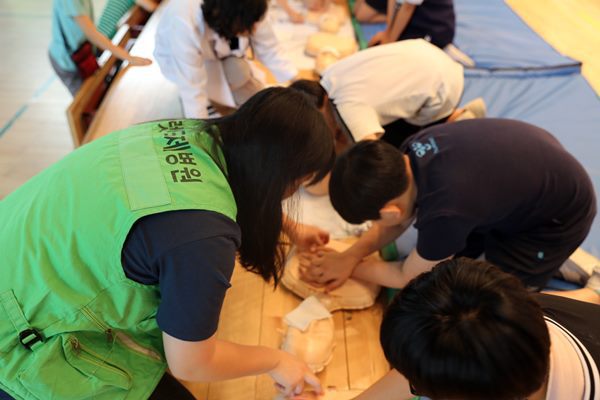 Nasaret International Hospital Chairman Lee Kang-il announced that a CPR training session was conducted for 160 children in sixth grade at Yonseong Elementary School in Yeonsu-gu, Incheon on the 13th and 14th.
This training is designed to inform the dangers of cardiac arrest and the importance of CPR, and to save valuable lives through quick response in actual emergencies.
In this training, which was conducted by Director of Nursing Department Shin Eun-ha with the help of the Nasaret International Hospital Social Service Team and Nursing Department, students learned about first aid protocol, safety rules of emergency rescue, etc. They were trained in the entire process of conducting CPR and helping paramedics.
Since 2015, Nasaret International Hospital has been continuously educating children, including local elementary schools, kindergartens, and day care centers. This training followed another emergency response training for 100 children of Donghwa Nara Kindergarten Yeonsu-gu that took place on June 19.
Chairman Lee Kang-il of Nasaret International Hospital said, "CPR is an important way to save lives. In an emergency, Nasaret International Hospital is one of Incheon's leading hospitals."
Nasaret International Hospital is a general hospital located in Incheon, which consists of 23 medical departments, 8 specialized centers and 50 specialists based on modern medicine, oriental medicine, and multifunctional medicine. In 2016, they were certified by the Ministry of Health and Welfare as a medical institution, and received a grade A for six consecutive years in the National Emergency Medical Center's evaluation.
Original Article by Medipana [2017 Jul 14]
게시물수정
게시물 수정을 위해 비밀번호를 입력해주세요.
댓글삭제
게시물삭제
게시물 삭제를 위해 비밀번호를 입력해주세요.